Maximize Nutrition. Minimize Food Spoliage with the BioChef Airfree Vacuum Blender and Vacuum Food Storage Accessories.
The new BioChef AirFree Vacuum Blender offers the latest development in blending technology.
Normal household blenders whisk air into ingredients. By removing the oxygen from the jug prior to blending, the AirFree blender preserves the color, flavor and freshness of the ingredients.
As a result, you will enjoy a smoother, richer and foam-free texture. Power, precision and three pre-set programs make blending easier than ever before.
The AirFree Vacuum Blender uses new vacuum blending technology to maximize nutrition and preserve freshness by removing the air from the blender jug prior to blending.
Oxidation begins when food is exposed to air, and is the reason a smoothie will begin to split, separate and discolor relatively quickly if not consumed right away.
The immediately noticeable result after removing the air prior to blending is a richer tasting smoothie with a smoother, foam-free texture.
The AirFree Vacuum Blender will create a smoothie that is noticeably brighter in color, has a smoother consistency, and stays tasting fresh for longer.
The Highlights of the AirFree Vacuum Blender: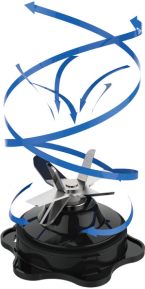 Japanese Stainless Steel Blades
The BioChef AirFree Blender comes with Japanese made stainless steel premium blades which are not only the toughest on the market but also extremely resistant to rust or decay. These blades spin up to 25,000 times per minute to pulverise even the toughest ingredients. The 8 blades create a unique vortex to ensure you food is blended properly each and every time.
Powerful Motor
The heart of the Airfree vacuum blender is a powerful 800 watt motor that can reach speeds up to 25,000 revolutions per minute, it includes a cooling fan so the motor does not overheat and will be trouble free for many years to come.
Hidden Vacuum Passageways
Unlike most vacuum blenders that have a cumbersome sound enclosure or some other awkward apparatus to hide the vacuum passageways, the Airfree is best looking vacuum blender that has hidden vacuum passageways that is fully hidden in the handle of the carafe. You would never know by looking at this blender that it is a vacuum blender.



Variable Speed
Make personalized recipes by using the variable speed dial, that alls you to directly control the RPMs of the vacuum blender so you can blend to the perfect consistency each and every time.
Easy to Remove Lid
Unlike other vacuum blenders that have lids that can be difficult to remove after the vacuum is released, the Airfree has the easiest lid to remove that we have experienced to date.


Safe Design The blender has a built-in saftey that prevents the blender from running unless the carafe is properly locked into place. This also helps stabilize the blender jar when blending.

More than Just a Vacuum Blender
The Aifree vacuum blender and vacuum food storage system includes a host of accessories so you can store smoothies, juices, wine, dressings, dips, fruit, vegetables, nuts, seeds, herbs, grains, beans, meats and more under vacuum. Just look at all the included vacuum food storage accessories that are included:
Vacuum Accessory Hose
Vacuum Wine Stopper
Vacuum 450ml Tumbler
Four Vacuum Storage Containers
Three Reusable Vacuum Storage Bags
BPA-Free Vaccum Blending Carafe
The 1.5 Liter Eastman Tritan blending carafe has been designed to circulate ingredients into the 8 spinning blades while blending.
Easy Vacuum Release
The airfree vacuum blender features an external vacuum release tab that makes it easy to remove the vacuum from the cafare after vacuum blending.


Vacuum Food Storage Containers
Using the AirFree's revolutionary vacuum technology you can store your food and drinks for far longer than ever before. By removing the oxygen from the container, the AirFree Vacuum Blender reduces spoilage caused by oxidation.
You can now preserve your favorite smoothies, juices, sauces, dips and dressings using the AirFree's Vacuum accessories that include four vacuum containers.


Three Easy Blend Buttons
With the touch of a button, the air is removed from the blending jug, reducing the exposure to oxygen and creating a vibrant colored smoothie. Three pre-set programs make the BioChef AirFree Blender one of the most user-friendly blenders ever designed.
The AirFree Vacuum Blender can make many recipes:
Smoothies
Blended Juices
Nut Milks
Blended Soups
Blended Salads
Salad Dressings
Dips & Sauces
Sorbet
Guacamole
Nut Butter
Hummus
and much, much more.
Why Purchase a Vacuum Blender?

1. Ordinary blenders create greater oxidation due to the air inside the blender when blending. This causes food to brown quicker and diminishes nutrients. Vacuum blending removes excess air and preserves freshness, nutrients and provides a smoother texture.

2. Less Separation, Less Air and deeper, richer color with a smoother texture.

3. More nutrition. Based on testing, certain vitamins and antioxidants may be higher in a vacuum blender due to less oxidation to these fragile life-preserving nutrients.

Features:
Easy to Use and Easy to Clean
Blend under Vacuum to Maximize Taste, Flavor, Nutrition and Texture
One-touch auto blend technology starts and stops on its own.
BPA-Free containers
Specifications:
Color: Silver/Black
Vacuum Blender
1.5 liter (50 oz) Carafe
BPA Free
Three One Touch Buttons
25000 Max RPM
800Watt Motor 120 Volts 60 Hz
80-85 Decibels
8.07" W x 8.66" D" x 18.30" H
CE CB Certified
17 pound shipping weight
Made in Korea
5 Year Warranty
Parts included:
Airfree Motor Base
Airfree BPA-Free 1.5L Carafe
BPA-Free Vacuum Lid
Vacuum Accessory Hose
4 BPA-Free Vacuum Storage Containers
Vacuum Wine Stopper
450ml Vacuum Tumbler
3 - Reusable Vacuum Bags
Instruction/Recipe Book