We are glad to now offer the Black Garlic Maker that allows you to transform fresh garlic you grew or bought into a savory-sweet black garlic that retails for $25 or more per pound.

Black garlic is renowned for its health benefits including higher levels of many nutrients, up to double the amount of antioxidants and packed with S-allylcycteine.

This Upgraded Version of the Black Garlic Maker allows you to save time and money by having a new 8 day "fermentation" time instead of the standard 12 day fermentation time, which is found on most black garlic machines.

While this item is called a "fermenter". We would like to say this fermenter mainly works by a process of heat and enzymes, not microbes, to transform fresh garlic into caramelized black garlic that increases the sweetness, removes the pungency and spiciness and increases certain nutrients.

Black garlic can be stored for a longer period of time than fresh garlic.

We like the Black Garlic Maker because its easy. Simply completely fill the rack with your fresh garlic, put it in the machine, hit the start button, and the machine will automatically heat, cool and vent the garlic as needed to create the perfect black garlic for you each and every time.



Steam Vent
The Steam Vent automatically controls the moisture level inside the machine to ensure the proper moisture level of the black garlic. n be an issue with competitor models.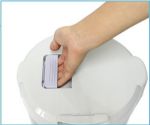 Lid Release Button
The specially designed lid release button will unlock the lid so it can be opened. It allows the lid to create a completely sealed fermentation area where 360 degrees of hot air convection currents perfectly ferment your garlic.


Water Collector
The water collector tank will collect the excess moisture from the garlic as it ferments to ensure the proper moisture level of your black garlic.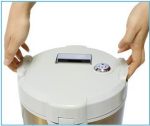 Handles
The easy-to-grab handles allow you to safely and easily move your black garlic machine for use or storage.


Upgraded Version
The black garlic maker we offer is the upgraded version that will save you time and money as it has a automatic 8 day setting for normal garlic that is sold in the USA. Most machines only have a 12 day setting.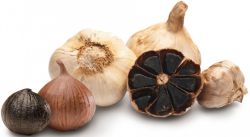 Full Rack of Finished Black Garlic
The rack inside the black garlic maker is made from lightweight aluminum. One rack can produce up to 2 pounds of finished black garlic.

This smart electric garlic maker is safe, convenient and dependable. This garlic maker has 3 automatic programs that can be used:
NORMAL GARLIC - This is the standard clove garlic that is available in the USA. This program runs a total of 8 days.
SOLO GARLIC - This garlic has only one large clove per head. Its not normally found in the USA. This program runs a total of 12 days
DRYING GARLIC - This function is for additional drying of black garlic AFTER one of the two above functions are used, if desired.
The aluminum inner pot in extremely durable and made from aluminum without the use of non-stick coatings that may concern some people.
The Black Garlic Maker is almost silent when operating and emits no steam.
The Black Garlic Maker is equiped with an intelligent 360 degree intelligent heating and humidity system to ensure perfect black garlic every time.
The Two layer rack can fit more fresh garlic than single-layer machines.
Specifications:
Low Power Consumption
120 Volts 90 Watts 60 Hz
5 Liter Capacity (20-30 garlic heads)
Computer Controlled
~161 degrees F for 8 day cycle
360 degree hot air convection
Aluminum alloy rack / inner pot
Not Dishwasher Safe
1 Year Warranty
Accessories included:
Black Garlic Machine
Aluminum Alloy 2 Shelf Rack
Aluminum Alloy Inner Pot
Power Cord
Instructions
Important Usage Tips:
Select high quality garlic that is fresh and dry without water on the surface. Large Cloved Garlic that are unpeeled work best.
Please clean your fermenter after each use with soap and water for best results.
Only run the fermenter completely full. If you run the unit less than full, your garlic may come out too dry.
Once done, you may want to let the black garlic "dry" for 3-7 additional days for better flavor.
Finally, remove the garlic and store in a sealed mylar bag in the fridge for longest term storage.