The Tribest Glass Personal Blender is an electric blending appliance that makes clean blending easy and portable. The all stainless-steel blade assembly and tempered glass containers ensure that there is zero food contact with plastic. Worry no more about plasticizers, BPA, or harmful chemicals leaching into your favorite recipes for smoothies, sauces, baby food, and more!
The Variable Speed Dial gives you total control over the final result and the 1-Touch Pulse Button is convenient for achieving the perfect blend. Store your blends in the Tempered Glass Blending Containers, or take them with you using the Tumbler Sipping Lids. An optional, large-size 42 oz. blending container turns your Personal Blender into a full size blending machine for your larger recipes.
The Glass Personal Blender is the best a blender can offer, with its compact size, powerful motor, and clean, plastic-free blending environment.
ALL STAINLESS-STEEL, 6-PRONG BLADE ASSEMBLY

The uniquely designed blade assembly of the Glass Personal Blender allows you to take apart the blade from its housing for easy cleaning. The 6-pronged blade creates a stronger vortex so blending is faster and resulting textures are smoother, crushing ice and pulverizing frozen fruits with ease – perfect for your smoothies, sauces, baby foods, hummus, nut butters, and more.
STURDY, TEMPERED GLASS BLENDING CONTAINERS

The Glass Personal Blender comes with 3 blending containers: an 8 oz., 16 oz., and 24 oz. made of tempered glass. No longer do you have to blend your ingredients in a plastic container that may leach harmful chemicals or plasticizers into your food. Rest assured knowing that the Glass Personal Blender is 100% BPA-free. And the glass has been specially treated to be durable for travel and is dishwasher safe. There is also an optional 42 oz. blending container for the Glass Personal Blender so you can use it to blend larger recipes..
INCLUDED STORAGE LID AND 2 TUMBLER SIPPING CUP LIDS

The Glass Personal Blender comes included with BPA-free, silicone-lined storage lid and 2 travel lids so the glass blending containers become your storage container or on-the-go tumbler. The silicone lining ensures that your blends remain plastic-free even after blending. '
2 EASY AND CONVENIENT OPERATING MODES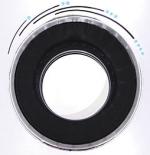 The Glass Personal Blender gives you complete control with the Variable Speed Dial, and a 1-touch Pulse Button so you can easily blend to the desired texture. The dual control options on this blender makes it more versatile than other personal blenders that only have a pulse function.
The Glass Personal Blender is the best electric, compact blender for eating clean and healthy.
The Glass Personal Blender provides a completely plastic-free environment for blending your favorite recipes with the all stainless steel, 6-pronged blending blade and the sturdy, tempered glass blending containers. Feel great knowing that no harmful chemicals leached into your foods by blending, storing, and traveling with the Glass personal blender and its accessories.
The powerful motor and expertly designed blending blade can crush ice, blend frozen fruits, and emulsify your toughest blending needs. Blending is made to be versatile with the variable speed dial and the 1-touch pulse button, so you can achieve perfect results every time.
The Glass Personal Blender comes included with an 8 oz., 16 oz., 24 oz. blending containers – for easy portion control – and a storage lid and two silicone-lined tumbler sipping cup lids – for a healthy, travel-friendly option for the on-the-go user. And with its 5-year manufacturer's warranty and sleek, polished design, the Glass Personal Blender is a great, stylish appliance for any kitchen.

Specifications for PBG-5050
120 volts, 60 hz, 2.3 Amps
2/3 Horsepower motor
BPA FREE
Glass Jars
5 year warranty
Made in Korea
What's Included with the PBG-5050:
Personal Blender Motor Base
Blending Blade Assembly
8oz Glass Blending Container
16oz Glass Blending Container
24oz Glass Blending Container
BPA-FREE Silicone Lined Lid
2 -Silicone Lined Sipping Lid
Power Cord
Instruction Book and Warranty Card
* If you want to use this blender in a CAR, or RV, you will need a standard 300 watt power inverter if you dont have a 110 volt outlet available. (available at walmart, target, kmart, etc)