The Juiceman Juicer makes it easy to be healthy.
For those who want better nutrition along with highest quality and performance, we proudly present the Juiceman II Elite Juicer. The most convenient and easy-to-use juicer available, it offers a powerful motor with built in speed control for optimum extraction efficiency.
Convenience and ease of use.
Reduce preparation time.
Powerful ½ hp motor and extra large feed tube, handle large pieces of produce with no problem. Less cutting and peeling!
Juice faster.
Large feed tube and automatic pulp ejection allow for more continuous, non-stop juicing.
Easier clean up.
Large detached pulp basket holds produce bag liner. Preparation and clean up is faster and less difficult than juicers with attached pulp receptacles that must be cleaned out frequently. Also; fewer parts and easier to clean surfaces than many other juicers.

Makes delicious fresh, additive free juice.

Nothing beats the great taste and great nutrition of pure, fresh juice.

Juices a wide variety of fruits and vegetables. Two (2) regulating speeds for softer or hard produce.
Juiceman Juicer Update
We have discontinued the Juiceman II Juicer after selling it for many years. When The Juiceman Juicer was first sold, Jay, "the Juiceman" oversaw the juicer, and its high quality. Later, the Salton Company "bought out" Jay, and they have been manufacturing the juicer. In our opinion, we have seen the quality decrease and problems with the juicer increase. In the meantime, there have been new juicers that have entered the market, that offer a longer warranty, lower price, and equal or greater performance. Our reccomendation is to steer clear of the Juiceman Juicer and go with a Lequip Mini or Nutrisource 1000 juicer. Both of which can be seen in a comparison here.

FREE BONUS WHEN YOU ORDER THE JUICEMAN II JUICER FROM US!

"Fresh Juice Recipes Booklet" and "Tips on Juicing Audio Cassette"
Remember...a juicer that's easy to use will be used more regularly.
Optimum Nutrition.
Powerful ½ hp motor allows juicing of skins and rinds. Greatest concentration of nutrients lies in the skin and the area just below it.
Exclusive built in speed control.
Maintains constant motor rpm for optimum efficiency.
Reduces stress and helps prevent motor burn out.
Micro mesh screen design. Improves juice extraction and filtering.
Safety and reliability.
Patented dual electronic speed controls
Easy clean up, use a common grocery pulp bag as liner for the detachable pulp basket
Safety switch. Motor can only be turned on when juicer is properly assembled.
One year limited warranty.
Helpful nutritional information
Good Juicer to Juice more than 1 gallon at a time.
Juiceman II Juicer Specifications:
Powerful 1/2 horsepower motor
Model JM410
690 watt motor
6300 RPM
13 3/4"H X13 1/2"W X 8 1/4"D
1 year warranty
Weight 15 pounds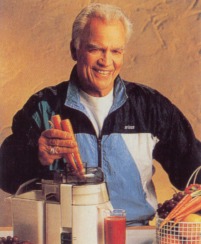 "Create the fresh fruit and vegetable juices you would find in a commercial Juice Bar in your own home. The delicious, easy way to provide you and your family with great nutrition."