Revolutionize your juicing experience with the REVO830. Optimized for carrots and celery, the REVO830 features a new Auto-Cut Chute that automatically chops long, fibrous ingredients. The bladeless chopping mechanism cuts and presses perfectly-sized pieces at a time, minimizing food waste while maximizing juice yield.
Equipped with an extra-large 3.5-inch feed chute, the REVO830 also accommodates whole ingredients such as apples and beets. Included are attachments to make thick smoothies, silky sorbets, and creamy nut milk.
From long celery sticks to whole apples, the REVO830 cuts down ingredients and prep time.
Features of the REVO830
Improved Juicing Bowl makes cleaning easier.
The all-in-one bottom of the Juicing Bowl enables easier cleaning and assembling. You donít need to separate silicone rings or open press silicone for cleaning anymore; it also prevents juice leaking when not fit completely. In addition, the pulp outlet now has a cut-out for easier access.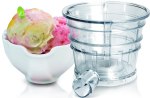 Turn Frozen Fruits into Sorbets
With the included sorbet attachment, you and your family will be enjoying frozen-yogurt consistency 100% fruit sorbets with no added sugars, flavors, or preservatives.


Turn Your Favorite Fruits and Vegetables into Smoothies
Just add your fresh or frozen produce and some liquid, such as coconut water and you will be enjoying healthy smoothies that have a thicker consistency than juice. Unlike high speed blenders, smoothies made in the Kuvings Evolution are made at 60 RPM, which is less destructive to the nutrients in fresh produce.
Includes Recipe Book to help you to get healthy
The Kuvings Evolution is the only cold press juicer that comes with a dedicated full-color recipe book with dozens of juice recipes as well as other recipes you can make using the Kuvings Whole Slow Juicer. It contains 75+ full color pages of bright pictures and recipes to help you get on the road to better health.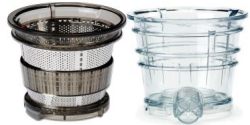 Includes Smoothie and Sorbet Strainer
The Kuvings REvolution includes both the Smoothie and Sorbet Strainers that makes this machine more than just a juicer.
Juice Fruits and Vegetables
Make Frozen Fruit Sorbets
Make Low Oxidation Smoothies
Make Nut Milks

All Natural
The wider feeding tube, enough to accommodate an entire apple, makes extraction simpler and more convenient. It also minimizes loss of natural color, taste and nutrients of ingredients by reducing exposure to the air.


Stronger
Upgraded Drum lid is improved by adding assembling point from 3 to 4 letting the drumset be assembled stronger & more stabled.


Juice Quality
The patented J.M.C.S (Juicer Module Comprising System) enables balanced extraction of fruit flesh and juice. By minimizing layering, fresher and richer juice can be produced.



Clean Up
After juicing, you can easily clean up trace residues in the juice strainer. Put the rotating cleaning brush and the juice strainer together and twist them against each other.



Quiet
Using its built-in low-noise design, with a slow-rotating, special deceleration motor, the product generates less noise and vibration.


FEATURES

- 1.75-inch Auto-Cut Chute allows carrots and celery to be inserted without pre-cutting.
- Commercial-grade auger automatically chops long, fibrous ingredients into an optimal juicing size.
- 3.5-inch extra-wide feed chute accommodates whole ingredients, reducing prep time.
- Newly designed base and 240-watt noise reduction motor deliver quiet power.
- Flip gate effortlessly drops ingredients into the juicer, and locks into place to create a smaller opening.
- Low-speed masticating technology eliminates heat and oxidation damage for maximum nutrient preservation.
- Wider juice and pulp spouts make the parts easier to empty and clean.
- Sleek juice and pulp cups can be interchanged depending on the quantity of juice made.
- Includes smoothie strainer for rich, creamy smoothies.
- Includes blank strainer for melt-in-your-mouth sorbets.
- BPA-free components protect juice from unwanted chemicals.
- Includes strainer-cleaning tool and brush for quick cleanup.
- Includes a recipe book for inspiration.




WHAT'S INCLUDED: Juicer base, juicing topset (lid, juicing bowl, auger, juicing strainer, rotation wiper, juice cap), smoothie strainer, blank strainer, pusher, juice cup, pulp cup, cleaning tool, cleaning brush, manual, and recipe book.

Dimensions: 10 x 8 x 19 inches
Weight: 16.5 lbs
RPM: 50 rpm
Voltage: 110-120 V, 60 Hz, 240W
Materials: ULTEMô, Tritanô, ABS, PC, Stainless Steel (STS304)
Warranty: 15-Year Limited Warranty

Made in South Korea.