Introducing Spirooli, the 3-in-1 turning slicer.
Spirooli is a practical and innovative way to beautifully shred, slice, and chip most vegetables and fruits.
The interchangeable blade system is fast, safe and easy to use.
Spirooli makes it easy for you and your family to prepare your favorite dishes in a short period of time.
The Spirooli Features
High Quality Design
Stainless Steel Blades
Suction Cup Base
Easy Storage
Dishwasher Safe (top shelf)
Create
Curly Fries
Potato Twists
Gourmet Salads
Veggie Noodles
Apple Chips
Incredible Garnishes
You've seen lots of slicers and dicers, but nothing works like the Spirooli. It's the quickest, easiest way there is to cut just about any vegetable. The sturdy suction legs hold securely to your kitchen counter. Just insert your vegetable, and away you go. The Spirooli works like magic on a potato. Just turn the crank and watch it shred. It's absolutely perfect for hash browns. Now change blades, and you have those curly fries that everyone loves. They're sure to be a family favorite. Change blades again and you can make great homemade potato chips. Potatoes are just the beginning. The Spirooli holds a whole cabbage so you can make a mountain of coleslaw in no time. Slice peppers and onions just the way you want them for pepper steak or fajitas. Shred tomatoes for the greatest homemade salsa ever.
Suction cup base The base adheres to smooth surfaces (most countertops or tables)
Self Contained Blade Storage- Blades store underneath the Spirooli for easy access
"Pinch-to-Release" The suction cup base, will release when they are pinched.
"Easy-to-Use" Interchangeable Blade system. Unlike other slicers, the spirooli has 3 interchangeable blades that are easy to change, just slide in and slide out!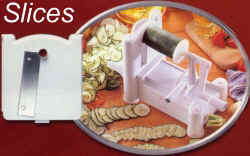 Slices - Excellent for creating small slices for decoration, or for a unique texture for your salad.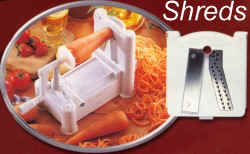 Shreds - Great for making the "raw food spaghetti pasta, and salad garnish, or for those who cook, can be used to make hash browns

Chips - can be used to make chips out of zucchini then add your favorite seasons, and dehydrate! Instant "zuke" chips!
Now you can prepare the most beautiful salads you ever served. Make the kind of garnishes that turn an ordinary meal into a gourmet delight. The Spirooli zips through an entire vegetable quickly, and it's a beautiful mushroom shape for an attractive tasty accent. The three different blades are designed to do just about anything. To change blades, simply pull one out and snap another one in. The blades you're not using store conveniently in the built-in holder. Slice apples for pies, carrots for soups, and lemons for drinks. When you're done, the Spirooli comes apart for easy cleaning. Rinse it under running water or put it in the dishwasher.
Recommended Vegetables:
Onion
Zucchini
Carrot
Cucumber
Turnip
Potato
Sweet Potato
Daikon Radish
Butternut Squash
Look at the many uses:
Garnishes
Salads
Onion Rings
Coleslaw
Pickles
Soups
Potato Nests
Pizza Toppings
Spaghetti
and More!
The brand name of this slicer is "World Cuisine". It was called "Spirooli" in the past, however, the company re-branded all of their products to use the name "World Cuisine". It is the exact same machine; the name "Spirooli" is just no longer being used on the box