The Brand Chosen By Leading Chefs Worldwide
The health benefits of eating less processed, less refined foods are well documented. However, preparing whole foods wasn't always the easiest or best-tasting choice. Owning a Vitamix changes all that forever. With the flip of a switch, you discover that creating delicious and healthy raw, vegan and vegetarian meals is easier than you ever imagined with the Vitamix 7500.
Enjoy the best-performing and most reliable blending equipment in the world, and join the millions of professional chefs and at-home cooks who use their Vitamix blenders every day to make meals easier, faster, and more delicious.
The new Vita-Mix 7500 has an even more powerful motor than the Vitamix Turboblend VS. The 7500 model features the low profile compact 64-ounce carafe that fits under most standard kitchen cabinets.
An evolution in design both inside and out, the Vitamix 7500 includes a high-performance motor for quicker and easier processing of dense ingredients, as well as an ultra-responsive Variable Speed Dial and Pulse feature for superior precision. With a modern design and intuitive controls, you'll enjoy keeping the Vitamix 7500 on your counter for daily use. Create smoothies, hot soups, and frozen drinks in a single machine.
Vita-Mix is so much more than an ordinary blender. Vita-Mix produces the most incredible purées imaginable! Perfect texture. Beautiful sheen. Absolutely no graininess and so completely blended they won't separate for a surprisingly long time. Vita-Mix's exceptional purées are building blocks for distinguished sauces, soups, salad dressings and many more menu items.
Great for Entertaining
Make party punches, tropical drinks, spreads, dips, salsa and yummy desserts quickly and with out a sink full of dishes.
Lowfat, skinny desserts.
Gourmet nut butters.
Fruit toppings for ice cream.
Fruit flavored frozen sorbets.
Vita-Mix is the fastest, easiest, most powerful blender ever created for home use and performs like no other blender. A workhorse in the kitchen, Vita-Mix purées and blends quicker and smoother than any blender or food processor you have ever used. Speeds up to 270 miles per hour in the 7500, ensure perfect consistency everytime. It allows you to purée and blend many different ingredients with no chunks, no separation and no chugging or grabbing of the blender itself, just smooth operation and results.
The powerful motor enables Vita-Mix to blend 6 cups of ice cubes in just a few seconds. Vegetables, fruits, dense cheeses, hard ice cubes blend fast and completely, with no residue.
Included FREE when you purchase your Vitamix 7500 from DiscountJuicers.com:
"Simply Fresh Cookbook" is a full-color, hard-bound book that contains hundreds of recipes many are vegetarian and vegan that will enable you to eat a healthy whole foods diet.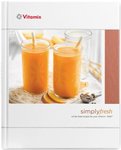 "Let's Get Started" DVD video, shows you how to use your new Vitamix 7500 to prepare healthy and tasty Vitamix meals.

The Getting Started guide contains introductory recipes and techniques to help familiarize you with your new Vitamix 7500.
Includes Compact 64 oz Carafe
The 7500 includes the rare 64 ounce compact Eastman Tritan BPA-FREE Copolymer container that is virtually unbreakable and engineered to last. This newly-designed carafe is 10.125 inches tall and wider than the previous 64 ounce carafe and is designed to fit under standard kitchen cabinets and includes the soft grip handle.
New Larger 4" Blades
The Vitamix 7500 carafe includes 33% larger blades than standard models that have the 3" blades. The longer blades make for smoother, quicker blends due to increased blade surface area.
Included Tamper
The Tamper helps you process thick mixtures like peanut butter and frozen desserts. It fits securely into the 64-ounce container with a special collar designed to prevent it from hitting the blade.
Features:Eastman Tritan™ copolyester compact 64 oz. rated capacity BPA-free container is as durable as polycarbonate, features improved sound damping and is chemical resistant. More powerful 2.2 peak horsepower motor for improved performance. Feedback-type variable speed control provides consistent power regardless of load. Speed ranges from 11 m.p.h. to 270 m.p.h., wider than any standard blender. Unique 4" stainless steel hammermill and cutting "wet" blades process whole foods like no other appliance to deliver up to 3 times the nutrition. Slightly quietier than previous vitamix models Patented, spill-proof vented lid with removable lid plug lets you measure and add ingredients safely while machine is running. Tamper for extreme processing power helps when preparing foods such as nut butters and frozen treats. Quick and easy clean-up. Just add a few drops of dish soap, some warm water and run for 30 seconds on high Specifications:Infinite Variable Speeds 2.2 peak HP 120 volt, 60 hz, 12 amps For North American Use Only High-efficiency radial cooling fan Thermal protection system to prevent overload and burnout Metal-to-metal container-to-base coupling for maximum durability and long life Heavy-duty, hide-away safety cord extends 19 inches to 6 feet and has a grounded 3-prong plug Wear-resistant plastic base.
Container. 64 oz. compact wet-blade container with stainless steel hammermill and cutting blades Two part vented lid with measurements. Tamper Accelerator tool with specially-designed collar to prevent tool from hitting blades. Full 7 Year Warranty Made in USA 7.7" W x 9.4" D x 17.5" H 14 pounds Includes:Vitamix 7500 Motor Base 64 Compact Ounce BPA-free Carafe Easy-Seal Lid with Plug Tamper Simply Fresh Recipe Book Getting Started DVD Getting Started Guide