Waterwise Distillers Guarantee Purity!
Steam distillation plus carbon filtration provides you with clean, pure drinking water and sparkling ice cubes...while enhancing the natural flavor of juices, soups, coffee, tea and other beverages.

Easy As 1,2,3...
The new compact countertop distiller produces a 1 gallon batch of clean, pure water in just 4 hours! Providing enough water for up to 4 people, the 4000 requires no assembly or installation and is as easy to use as a coffee maker.

Simplicity by design makes the 4000 simple in operation! Just fill the stainless steel boiler with ordinary tap water and plug into any standard electrical outlet. Then push the start button and walk away. The 4000 stops automatically when the cycle is complete. With its clean lines, powder-white finish and space saving size, the Waterwise 4000 will compliment any kitchen decor.

Convenient...
The Waterwise compact design is great for home, office or travel. You make fresh, distilled water according to your own needs. No running out between deliveries! No heavy, awkward bottles to carry or store! No plastic to throw away!
Economical...Save! Save!
A gallon of homemade pure distilled water costs you about 25 cents. Compare that with bottled water that costs up to $1.50 a gallon.
Dependable...
The waterwise 4000 distiller features automatic shut off, stainless steel condenser, stainless steel boiler and include a post carbon treatment system.
The Distiller 4000 comes with a 1 gallon collector/storage bottle which fits easily inside your refrigerator.
The Waterwise 4000 virtually pays for itself when compared to bottled water purchases and eliminates the inconvenience of lugging cumbersome bottles home.
We at discountjuicers.com reccomend the Ecowater distillers over the waterwise brand distillers. We have seen higher customer satisfaction with the ecowater units than the waterwise units.
Water Wise 4000 features:
Advanced Design Countertop Appliance
Automatic Shut Off
Manual Fill - No water hookups
Gaseous Vent & Post Carbon Treatment System
Stainless Steel Condenser - Not Aluminum
Stainless Steel Boiler - 1 Gallon Capacity
Easy to Use & Clean
External Heating Element for long Life
GE Lexan Polycarbonate Bottle
Detachable 48" Power Cord
Water Wise 4000 specifications:
Compact Dimensions: Height - 15" (38.1 cm) Diameter - 9" (22.8 cm)
Portable & Lightweight
Weight 8.4 lbs (3.8 kgs)
CE Certified (Euro)
CSA Certified (USA & Canada)
USA & Foreign Patents Pending
1 Year Limited Warranty
120VAC/60Hz 800W ·
Distillate Capacity - 1 Gallon (3.8L) in 4 Hours
Up to 6 Gallons (22.8L) in 24 Hours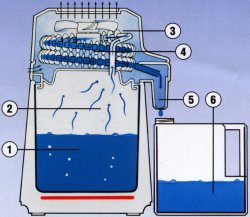 How it works:
Ordinary tap water is heated to 212 Degrees F, killing bacteria, cysts and viruses that may be present.
Steam rises leaving behind dissolved solids, salts, heavy metals and other substances.
Low boiling light gases are discharged through the gaseous vent.
Steam is condensed in a stainless steel coil.
Distilled water then percolates through a coconut shell carbon filter, enhancing the quality by adsorption of VOCs.
The purified drinking water is collected in the one gallon polycarbonate storage bottle (included).