The Omega VSJ843 Juicer is Omega's all-new vertical slow juicer. With its new lower speed of 43 RPMs it creates minimal heat build up and oxidation promoting healthy enzymes and longer lasting juices. Designed and engineered for health conscious individuals who want a greater variety in their daily juicing routine, the VSJ 843 has the ability to juice everything from wheat grass, leafy greens, fruits and vegetables. It excels at making nut milks due to the all-new juice tap. In our tests it is the most efficient single auger style juicer to date!

The Omega VSJ843 juicer takes the horizontal single auger design and takes the concept one step further..
The "heart" of the all-new VSJ843 is the specially designed juicing screen. The new screen design ensures pulp is broken down to a finer consistancy than previous vertical auger juicers which means less pulp in the juice.
Reap all of the benefits of a Single Auger Masticating Juicer in less space than most juicers on the market!
Why the Omega VSJ843 Juicer?
Slow Squeezing Technology (SST) - World's first patented juicer utilizing the SST method. It is a complete departure from the standard masticating method. The SST technology allows the Slow Juicer to extract the maximum amount of nutrients, vitamins, taste and juice from a minimum amount of fruits, vegetables, leafy greens, even soybeans while leaving less pulp in your juice.
Heavy Duty (HD) - The Omega VSJ includes the Heavy Duty Stainless Steel Juicing Screen.
Dual Stage Juicing - juice is extracted through the first crushing stage and before the pulp is ejected, it is then squeezed during the second pressing stage; resulting in more juice, and extremely dry pulp.
Automatic Wiping System (AWS) - World's first juicer with AWS. This juicer utilizes a silicone wiping blade, much like the wiping blade on your car that ensures the juicing screen stays clear of excess pulp so you will enjoy a higher yield and easier to clean screen.
Higher yields - Based on our testing, this juicer yields more juice than a comparable centrifugal ejection juicer.
Economical - Get the greatest amount of juice from the least
amount of produce.
Higher Quality Juice - Enjoy more antioxidants, better flavor and superior freshness of your juice. No frothing or foaming, and none of the separation that occurs with other juicers.
Self Cleaning - Simply pour water through to self clean the juicer when changing to another fruit, vegetable or leafy green. Save time!
Small Footprint - all of the performance of a masticating dual-stage single auger juicer, but with less space requirements than most centrifuge-style juicers
This juicer features a patented, stone mill-like screw, made of GE's ULTEM material, which is 8 times stronger than augers on other single auger juicers.
The newly designed twin auger, upgraded screen and wiping blade without drive gear is the newest patented technology that sets the VSJ juicer apart from others on the market. This cold-press juicer is sure to create some of the highest yields with the least pulp in the juice to date.
The VSJ843 twin-wing auger turns at a low 43 RPMs to ensure that nothing is lost through heated elements in your juice. This low speed also helps the Omega VSJ843 produce less foam than other vertical juicers.
The OmegaVSJ843 juicer's low speed of 43 RPM's ensures full taste and the highest nutritional value.
The Omega VSJ843 juicer is easy to assemble and disassemble for quick cleaning.
The Omega VSJ843 assures you many years of trouble-free, dependable service. 15 Year warranty on all parts and labor.
The Omega VSJ843 will juice
Vegetables
Fruits
Leafy Greens
Wheatgrass
It was designed from the ground-up as a juicer, and that's what it does extremely well. It can also be used to make nut butters and frozen fruit sorbets with the including juicing screen.
Whats the difference between
the different Omega vertical juicers?

Omega VSJ843
Omega VRT350 HD
Omega VRT400 HD
43 RPM
80 RPM
80 RPM
Twin Wing Auger
Single Wing Auger
Single Wing Auger
Upgraded 8x harder HD Screen
8x harder Heavy Duty Juicing Screen
8x harder Heavy Duty Juicing Screen
Juice Tap for Mixing and Nut Milks
No Juice Tap
Juice Tap for Mixing and Nut Milks
15 Year Warranty
10 Year Warranty
15 Year Warranty
Silver
White
Red
Silver with Black accents
Silver with Black accents
Best for people who want to juice everyday and make nut milks.
Best for people who want to juice everyday
Best for people who want to juice everyday and make nut milks.
The NEW VSJ offers a more quiet juicer with lower RPM and less pulp in the juice.

The VSJ843 has the patented Juicer Tap that allows you to mix your drinks inside the juicer and makes cleaning easier. The Juicer Tap makes the Omega VSJ843 the best juicer we have tested to make raw nut milks.
Healthy
The Omega VSJ843 juicer allows you to extract the maximum quality and nutrients from any kind of fruit or vegetable
Economical
Get maximum amount of juice with a minimum amount of produce. Peels and skins can be used in cookie, jam, cake, etc.
Easy to Clean
Simply rinse with water while changing fruit and take it apart after using and rinse with water.. It couldn't be any easier!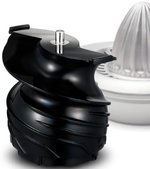 Silence
The Omega VSJ juicer with its low 43 RPM minimizes the noise by squeezing slowly rather than grinding at high speed like centrifugal juicers. The twin wing auger offers superior grinding than previous models.
Durability
The 15 Year Warranty on the entire juicer is your assurance that the Omega VSJ843 juicer is built to last. There is no need to purchase a costly an extended warranty.
Vegetable Juice
The Omega VSJ843 juicer excels at making juice out of your favorite leafy greens and wheatgrass.
Specifications:
Single Gear "Masticating" Extraction
Low Speed 43 RPMs – Ensures full taste and high nutritional values. Powerful motor chews the plant fibers and penetrates membranes to extract vitamins, enzymes, and minerals.
Continuous Juicing – Automatically ejects pulp into a pulp container that allows for continuous juicing.
High juice yield - very dry pulp
Single gear produces less foam than double gears
NEW More Durable Auger – GE's ULTEM material results in an auger is 8 times stronger than others.
No heat rise promotes a healthier juice
Makes the least pulp in the juice compared to similiar models.
Quality Engineering – Heavy-duty construction using the highest quality materials equates to a juicer that is engineered to last a lifetime.
Engineered for quiet operation and long-life
Built-in "reverse" prevents clogging
User friendly - easy to assemble, operate and clean.
15 Year Warranty
2 Horsepower equivelent with the gear reduction.
UL and cUL approved
LABELED for HOUSEHOLD USE
120 Volts 60 Hz 150 Watts
Motor: Single-Phase induction type
Size: 15.5" Tall x 7.75 " Deep x 8.06" Wide
Feed chute opening 1.62" x 1.25" approx
Weight: 20 pounds
15 Year Warranty
Accessories included:
Omega VSJ843 Motor Base
Upgraded dual stage juicing screen
Bowl with attached extraction plug
GE Twin Wing Ultem Auger
Self-cleaning screen holder
Two 32 ounce juicing cups
Tamper
Brush
Instruction manual