Tribest's Personal Blender makes food easier to eat, easier to prepare, and easier to clean up. In less than a minute you can prepare smoothies, blended soups, salsa, pates, baby food and more.

In the privacy of your home, traveling, or at the office-- the Personal Blender is portable and powerful enough to blend whole foods into delicious meals in seconds.

Tribest's PB-250 Personal Blender

Powerful ice-crushing, smoothie-making, go-anywhere portability with make-serve-n-store container.

As versatile as it is portable, the Personal Blender delivers and impressive 200 watts of ice-crushing, smoothie-making power wherever you plug it in. Compact and smartly designed with a clear and high impact polycarbonate container for blending and serving that closes tight with a lid for easy storage. In under a minute, enjoy anywhere hundreds of the nutritious and delicious recipes.
Efficient all-in-one container for blending, serving and storage.
Lightweight. compact and portable. Stays at home or goes to work, on the road or on vacation- use anywhere with a plug.
200 watt motor easily crushes ice cubes to make hundreds of delicious and nutritious recipes for people on the go.
Health food made easy. Grinder pulverizes nuts, seeds, coffee beans or even flax seeds into flour/powder in a snap. Quickly and easily turns whole, fresh foods into smooth-swallowing, no-chewing necessary foods for babies.
Comes complete with operation guide for easy use / easy clean and 40 easy-to-follow recipes for delicious Soups, Sauces, Salsa, Dips, Porridges, Pestos, Puddings and Baby foods!
Capable of 2 function modes: One touch short pulsation or press down for continuous operation.
What's the difference between the two Personal Blender models PB-150 and PB-250?
PB-150
PB-250
Motor
200 watt
1/4 HP
200 watt
1/4 HP
Blender containers (2cup size) with lids
two
included
two
included
Four Prong Blender Blade
one blade included
one blade included
Grinder containers (1cup size) with lids
OPTIONAL
two
included
Two Prong Grinder Blade
OPTIONAL
one blade included
See the parts that are included in the Personal Blender PB-250 Package:

We love the Personal Blender. We have used it when traveling to make smoothies and salad dressings. With the convenient lids, we made a fresh, raw salad dressing and "put a lid on it". We then took it into the restaurant and poured it over our salad while remaining inconspicuous. We also use the Personal Blender to to grind flax seeds and into powder.
- DiscountJuicers.com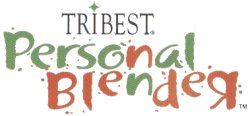 The Personal Blender gives you full-strength blending and grinding power in an ultra-compact package, allowing you to quickly prepare numerous foods in your kitchen or on the road.
The benefits of the Personal Blender:
Simple to use and easy to clean up.
Very portable: It weighs less than 3 pounds!
Efficient and quick food preparation; recipes can be completed in less than one minute from start to finish. Simply put food in, blend, eat, and enjoy.
Convenient to use anywhere you go: at home, work, or even on vacation.
Use on the road: in your car, camper, RV, or boat.*
Extraordinarily versatile so you can prepare many delicious recipes: everything from smoothies to soups, pesto to puddings, and more, all in less than 30 seconds.
Grind or blend continuously or in pulse mode.
When used as a grinder, you can make a powder/flour out of nuts or seeds. You can even grind fresh beans for your morning coffee!
Powerful: the 200-watt motor lets you blend and grind with ease.
Helpful for healthy food preparation. You can use whole, fresh foods to make a wide variety easy-to-swallow, no-chewing-necessary dishes.
Quick and easy baby food preparation from fresh and wholesome foods to nourish and feed growing children.
Fresh and healthy food blended in seconds, easy to use, easy to clean! Use the Personal Blender at home, work or while traveling.

Specifications for PB-250
Includes: Motor Base, 2 blending containers, 2 grinding containers, 2 Blending container lids, 2 grinding container lids, 1 two prong grinding blade, 1 four prong blending blade and instruction/recipe booklet.
120 volts, 60 hz, 200 watts
NOW BPA FREE
1/4 Horsepower motor
1 year warranty
Made in Korea
* If you want to use this blender in a CAR, or RV, you will need a standard 300 watt power inverter if you dont have a 110 volt outlet available. (available at walmart, target, kmart, etc)

In the picture above, see the configuration of the grinding blade on the left, and the blending blade on the right. Both blades are included with the PB-250 model.